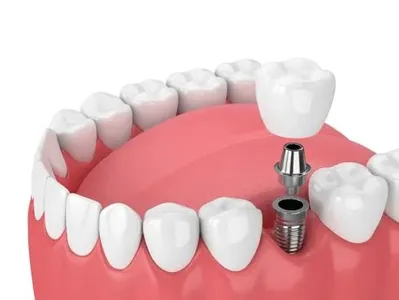 Are you tired of Your Dentures not being stable?
Comfortable and Fixed Dentures Do Exist. With Dental implants, you can get stable, full-arch tooth replacement. This will get rid of adhesives and oral glue, give you stability, comfort, and your denture won't slip out or move out when talking or chewing. That's why we usually recommend dental implant dentures. This means we will replace key teeth with dental implants, which are permanent and are affixed to the bone. Then, dentures can be affixed to those implants to give you a full set of very natural-looking teeth. Implants and attachments to new or existing dentures are all done in our office.
Improve the Function and Comfort of Your Smile
Damaged teeth don't just affect the aesthetics of a person's smile, they can also critically impact how that person speaks, eats, and uses their jaw and mouth for normal movements and functions. North Bethesda Dental Care in Rockville, MD, is experienced in dental implants and restorative dental services, delivering patient-focused dental solutions to our patients. Implants offer patients a permanent way to address a missing tooth or teeth by implanting the device directly into the jawbone. As your implant heals, the bone will form around the device, providing a tooth that is as strong as a natural tooth and provides the same seamless appearance as your natural teeth. Contact our office today at 301-770-9007 to learn more about if an implant or restorative dentistry may be right for you!
---
The Benefits of a Permanent Dental Implant
Crowns, bridges, and other dental devices offer patients an affordable, long-lasting solution to correct damaged teeth by way of bonding a custom fabricated dental appliance over their existing teeth. Dental implants provide a more permanent solution to missing or extracted teeth, installing the implant directly into the jawbone. Implants also do not require the need to alter surrounding teeth to make way for the dental device, like you would for a dental bridge. While dental implants can require 3-6 months to fully heal, the provide patients with a permanent restorative solution.
What is Bone Grafting?
Depending on the specific dental needs of the patient, bone grafting is a procedure that can be performed to replace bone loss in the jaw that anchors the teeth. Certain dental surgeries may require the need to graft bone in preparation for a dental implant or to stabilize a section of the jaw that has lost teeth or is affected by gum disease. Dr. Nazem and our friendly dental staff will discuss the options available to you at the time of your appointment and if you are a candidate for bone grafting.
---
Dentures and Partial Dentures
North Bethesda Dental Care also offers our patients restorative dentures, including conventional full dentures, immediate dentures, and partial dentures.
Conventional Full Dentures

This procedure involves the removal of all of the teeth. Rather than being fitted with an immediate device, conventional dentures give your gums a time to heal following your removal. It can take a few months for the gum tissue to fully heal, and during this time you will be without teeth.
Conventional Full Dentures

Similar to conventional dentures, this procedure involves the removal of all of the teeth. But prior to removal, we will take measurements to have your dentures created. After removing your teeth, your dentures will be immediately placed and fitted into your mouth. While you will have teeth immediately following this procedure, it does require additional follow-up appointments to adjust and tighten your device as your mouth heals.
Partial Dentures

Similar to a bridge, partial dentures are used when only some of your teeth need to be removed or are missing. Partial dentures are not permanent, like a bonded bridge would be, but instead can be removed.